Well, we are back from Disney World. I am a little sad that it is over, but glad to be back home at the same time. I was worried about us all being sick, but it passed for the most part, although I had no voice for a few days. The whole trip was just full of excitement and surprises. To start off we were picked up by a limo that took us to the airport were we were greeted by Anna's wish granters (wonderful people), who were there to see us off! They gave the girls each a bag full of goodies for the plane ride. When we got on the plane Anna was so cute, she kept asking when we were going to blast off! When we got to the airport a volunteer from Give Kids The world Village was holding up a sign with Anna's name on it, she then escorted us to get our bags and our rental car. It was sooo hot down there, but I can't complain, it was sunny, and the palm trees were beautiful!
GKTW is an amazing place! When we got there we had an orientation were they gave us our tickets for the parks, along with shirts for the girls. The tickets included a three day hopper pass to the Disney parks, Magic Kingdom, Epcot Center, MGM studios, and Animal Kingdom, a two day Hopper pass to Universal Studios and Islands of adventure, and one day at Seaworld. After that they showed us to our Villa. I never expected this place to be like it was. Our Villa was fully equipped, all the things you would need in your own house, and very comfortable. We spent the day unpacking, we went swimming, and just explored the Village. They had two pools, a miniature golf course, the gingerbread house were we were served all of our breakfasts and dinners, the ice cream palace were you could have all the ice you want all day long and lunches, a movie theatre, a little train, the castle of miracles which was like a big play room with a carousel outside, and much more. It's unbelievable!
Here is a picture of the outside of the Castle of Miracles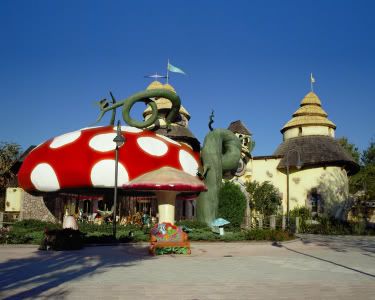 This is the outside of our Villa
The second day we went to the Magic Kingdom! When we first got there we saw some Disney characters, and Mary bought an autograph book. After waiting in the first couple of lines we were told by one of the workers that we didn't have to wait in lines, as long as they see our shirts and pins we could go straight to the front of the lines to visit and get autographs! Thank goodness we were told that before heading over to Mickey and Minnie mouse because those lines were the longest! The Characters even spend extra time with wish kids, and there we times that it was private time were we would get pulled to side with them. We also didn't have to wait in long lines at the rides, sooo cool! It happened by coincidence that friends of ours were in Orlando at the same time we were there, so we also meet up with them that day.
Picture of the girls with "Uncle" Justin and his girlfriend Brooke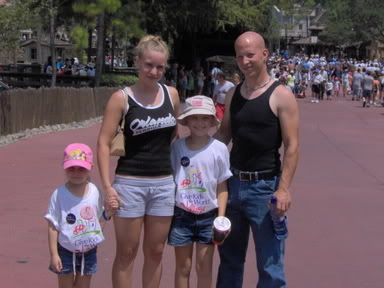 Meeting Mickey!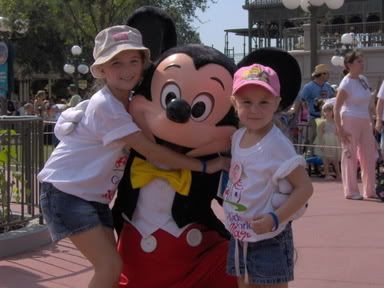 One of mine and Jason's favorites of Mary on the carousel
The third day we went to Universal studios and Islands of adventure. Man, we thought Disney treated us well! At Disney we would be able to go through the fast pass lanes, and still have to wait a little bit, but there they would escort us through the crew member doors, and not have to wait at all! There were more rides there that Anna was too small for. It was so funny the first ride she had to be measured for she was just a tad too short for. As they were measuring her and telling us that she wasn't tall enough she stood on her tip toes, and almost fooled them, nice try Anna! We had a good time, but it started to rain towards the end of the day, so we left a little early.
At Universal with Shreck!
The fourth day Anna had her Disney princess breakfast at Epcot center, so it was another day at Disney! The breakfast was good and Anna and Mary were excited to see Belle, Snow White, Sleeping Beauty, princess Jasmine, and Mulan. Anna was upset that Cinderella wasn't there, so she told Sleeping Beauty that SHE was her Favorite. After the breakfast we stayed at Epcot for a while, then headed over to MGM studios, then back over to Magic kingdom for the fireworks. The fireworks display was amazing! Wouldn't you know they call the display wishes? How perfect! It was beautiful to watch Anna watching the fireworks on her Wish trip and know that wishes can come true. Jason and I were teary eyed. It was a magical experience.
Mary and Anna with Sleeping beauty at the Princess breakfast
Cinderella castle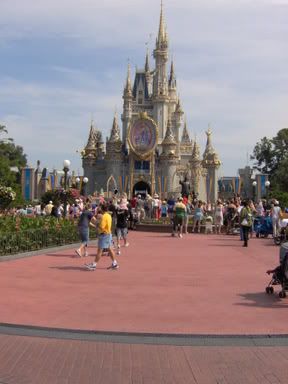 On the fifth day we went back to Universal Studios, and the Islands of Adventure.
Here we are with Scooby, shaggy and Mr. and Mrs woody wood pecker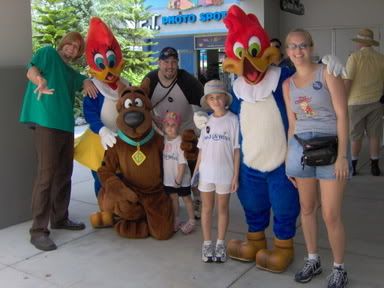 Spider man!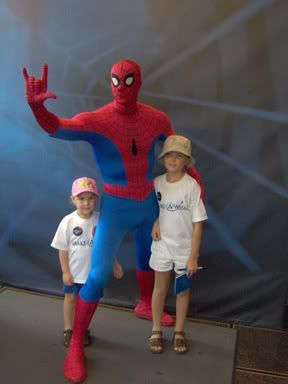 On the sixth day we went to Seaworld. At this point I think Anna was sick of all the walking and complained a lot. We went to the sealion and Otter show, and Mary got picked from the audience to be a volunteer. I think it helped that she was wearing the wish shirt and button, and since we were with make a wish we got to sit up front. Anna was a little jealous that Mary got picked, but I think she enjoyed watching! We also caught the Shamu show. We sat in the "soak zone" which we sat in at the previous show and didn't get wet at all, but it was opposite here. That darn whale splashed out gallons of water on us. It felt good because it was very cold water, but Anna had a heat rash from our previous days out in the hot and humid weather and when that salt water got her it hurt. Poor thing, I felt so bad for her, and then for Mary because at this point we had to leave and Mary loves sea animals (she says she wants to be a marine biologist when she grows up.) On our way out of the park we saw the dolphin nursery, but not for very long because we had to get home to wash the salt water off of Anna. It was actually nice to get back to the village and swim, have lunch, and start packing to go home the next day. On the day we got there at orientation they let you pick between having a parents night out at a local restaurant, or a family night at medieval times and tournament. We have always wanted to go to medieval times, but never had the money, so we picked that and this was the night to go. It was cool, we all enjoyed the food and the show.
Here is Mary shaking hands with the sea lion
The last day we had to check out by 11:00am, so we woke up early to make sure we had time to finish packing, eat our last breakfast there, and say goodbye to the village. This was a sad day. We also went to the castle of miracles to try and find Anna's star on the ceiling (On the day we got there they gave Anna a little star to write her name on and make a wish on so that the fairy can place it on the ceiling of the castle for it to stay up there forever.) We were told that there are over 10 thousand stars on the ceiling, all kids that have stayed at GKTW. It really is an amazing thing that there is a place like this for kids, but also a shame that there has to be one. We will never forget our time there, and it is nice to know that they won't either. After check out we had hours until our flight, so we went to the Animal kingdom. For lunch we went to the Rainforest Cafe, and as we were heading out the door we noticed a huge storm had started while we had our lunch. We bought some ponchos, and headed to the car in hopes of waiting out the storm and head to Magic kingdom one more time before we left, but there looked to be no hope of the storm leaving so we just drove around. We found an outlet mall and got the girls some shoes for school, then headed to the airport. The fun didn't stop there though, we were also picked up from a limo to take us home from the airport.
This is one vacation that we will never forget. Money could never buy a vacation like this, it was so unbelievably Magical. Thank you Make a Wish, and GKTW!
We got Mary a shirt that says Thing 1 and Anna a shirt that says Thing 2